 Yes. It's finally here... Time to kick back. Stress less. Enjoy some down time and a cold beer. Nothing too fancy but one that tastes great.
That's what we're all about at Finlay's Brewing Co.
Satisfying beer and fun times.
You see, we used to work in a big city with full-time jobs. Holidays arrived and we headed to Kalbarri in Western Australia. Beach, sun, fishing, surf… all year round. We didn't want the holiday to end so we moved there and bought a seafood restaurant. That's where we met you. You love to relax and laugh… so do we.
Then came our love of beer and extra space in the ol' filleting shed. We started brewing some awesome beer to serve up with fresh seafood, fire pit and the odd karaoke singer. Good times.
Now we serve up paddles of beer from our 5 flavours and it's hard to find a favourite. The judges at the Perth Royal Show in 2020 found a few though. Our Murchison Hazy Pale and 1951 Kolsh took home bronze medals while our Jakes Point India Pale Ale finished with a silver. We're pretty chuffed about it.
We see you time and time again as you stop in Kalbarri during your trips up and down the incredibly picturesque Western Australian coast. We love seeing you and miss you when you're not here.
So, instead of wishing you were here in Kalbarri, we decided to expand and make some Kalbarri vibes available wherever you are. Head to your local pub and ask them to get in touch as we're ready to ship some beer out there. Then, you can enjoy some chill time and relax wherever you are with a cold one from Finlay's Brewing Co.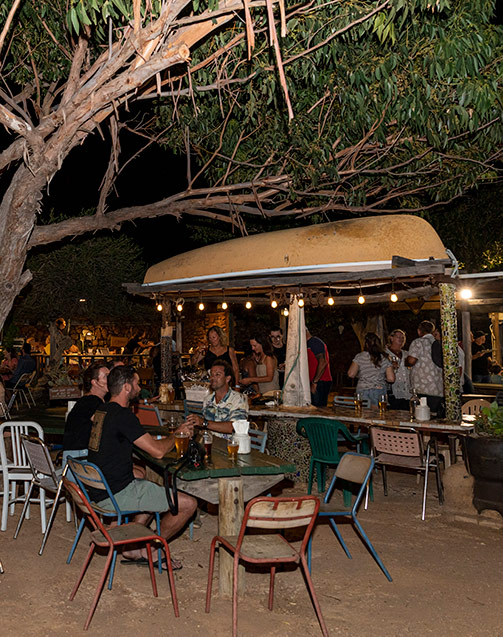 Jakes Point IPA - 6.2% ABV
Jakes Point is recognised as a National Surfing Reserve and one of the state's most famous remote surfing breaks. The reef offers a powerful, hollow left-hander that breaks for up
to 200m along a gnarly shelf.
Jakes Point is a classic 'West Coast IPA.' It's bursting with citrus and pine aromas; has a solid malt backbone and assertive bitterness. It is a nod to the cult of surfing and West Coast IPA.
Murchison Hazy Pale - 5.4% ABV
The mighty Murchison River is the second-longest river in WA. When the river floods, a large amount hazy/chocolate coloured water bursts out of the river mouth and into the Indian Ocean. Our Hazy is bursting with citrus and tropical fruits.
Kalbarri Lager - 4.2% ABV
Kalbarri has long been a favourite holiday destination on Australia's Coral Coast. This classic lager is designed for Kalbarri's warmer climate. Sporting great clarity, it is a perfect balance between malt complexity and hop aroma and flavour.
In 1951 the town of Kalbarri was gazetted. It took more than 10 years for the new name to be adopted by the local residents, much like the acceptance of the name Kolsch outside of Cologne, Germany. This classic style beer is light floral and spice on the nose with a clean finish on the palate. It is super refreshing and is a beer for a hot summer's day.
Shipwrecked Pale Ale - 4.7% ABV
Kalbarri's coastline is renowned as the shipwrecked coast due to the number of ships that have found their final resting place in these waters. Our Pale Ale honours the sailors' well known love affair with a good Ale and is an inhouse classic. Rich in flavour and balanced malt complexity with a generous punch of New World Hops.
Our beer is available in 50L kegs and 375mL cans. Supply may be limited so please get in touch below with your enquiry!
On your travels, we would love to welcome you for a brew and a meal at Finlay's Brewing Co in Kalbarri WA. In the meantime, fill out the form below if you'd like to get in touch. We welcome trade enquiries.